I have said a lot about the poor design choices made at Capcom over the past few years. I haven't found much greatness in characters like Rufus, Hakan or F.A.N.G. introduced in Street Fighter IV and V. Nor have I enjoyed watching classic characters like Birdie, Hugo and Abigail get turned into jokes. Of course I had a dilemma. Capcom Producer Yoshinori Ono was beloved in the community. He traveled the globe promoting the brand, promoting the games and meeting with fans. His energy was infectious, his enthusiasm was genuine and his passion just about single-handedly brought back the franchise. Without him the Street Fighter series would have stayed dead and fighting game scene would not have been as big as it was today. Without him other developers would not have pushed to bring back long-extinct titles like Killer Instinct, or even ARIKA's updated EX title. With all that said I'm not on board with his creative input. I don't agree with the addition of silly characters, silly mechanics, silly animations or silly game play. I will continue to call his team out on the poor choices that I think they made with regards to character design. I will remind them of the standards that they used to have. Let's talk about one of the worst characters Capcom ever put into the series.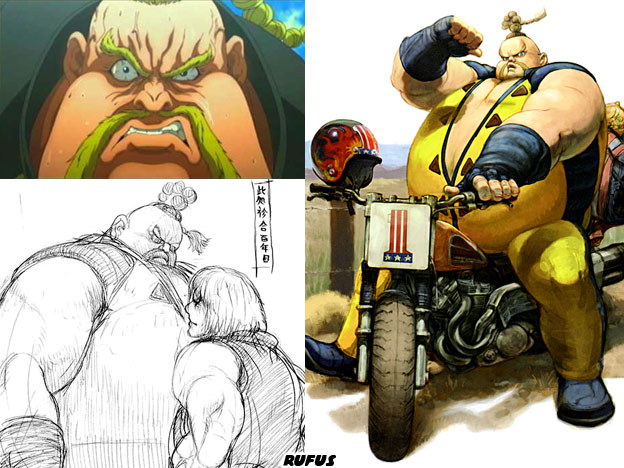 Rufus captured everything that was wrong with the direction of the Street Fighter cast starting with Street Fighter IV. He was big, fat, dumb and obnoxious. He was written as Ken's great American rival, the only thing was he was too stupid to even know what Ken looked like. How can you be a rival when you can't recognize your nemesis? What's worse is that in the early stages Rufus
was a powerful black character, nicknamed the King Cobra / Black Cobra
. Capcom wanted to give Ken his very own Sagat-type rival, a literal giant. The inspiration was Kareem Abdul-Jabbar from Bruce Lee's last film Game of Death. This character evolved and became a unique karateka in his own right. Then Yoshinori Ono decided that it would be funny if he put a fatty in the game instead. This new character was rushed into the game and both Ono and the artist Ikeno said it was a bad choice later on. Ono saw that the fat gimmick worked for Bob in the Tekken series. Bob was a much better developed character and was never presented as an idiot. The subtext was obvious to international audiences, fat was funny, and Americans were fat and dumb. There was a different path that could have been used to create the self-obsessed American. ARIKA showed us that more than 20 years ago.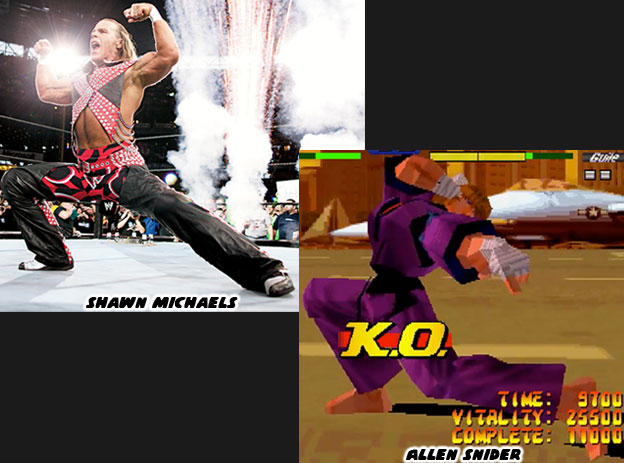 I said in the previous blog that Allen Snider was a second chance for the Street Fighter II and Street Fighter EX developers to create the Ken archetype. They wanted this character to be way more "American" than Ken. Somebody that would be easy to identify in a lineup. He didn't need to wear camouflage pants or have USA flag tattoos on his shoulders. They gave him a very non-traditional karate gi and made him brash. As over the top as Allen was he was still a good fighter. He couldn't be confused with Dan Hibiki as being a joke character. Allen was also as far removed from the personality of Kairi as possible. I think they accomplished their goal. Snider was loud in the EX and Fighting Layer titles. He captured the arrogant showmanship of television superstars. His victory poses reminded me of the characters from US pro wrestling. Clearly the team at ARIKA had picked up the personality traits of the most famous superstars of the late '80s and early '90s. When he was revealed for the new EX game he looked better than ever.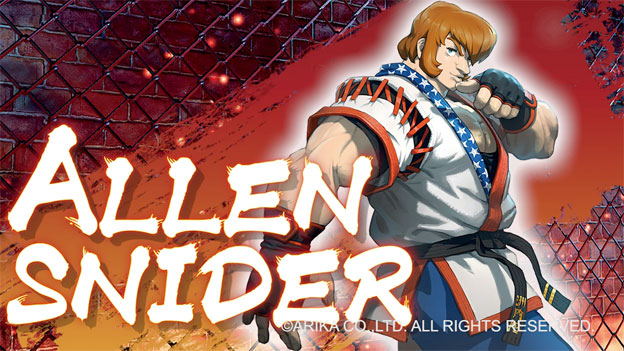 There was no mistaking that Snider had returned in all his patriotic glory. His star-spangled uniform was amazing. It was layered in details that helped tell a story. Even if you had never heard of the character you could tell a lot just by looking at him. He was definitely American and he was definitely not Ken. The updated look also harkened back to the era that inspired the original Street Fighter. Ken was
based on actual fighters like Bill Wallace and Joe Lewis
. While his hair and facial features were inspired by Chuck Norris and Bruce Lee, the whole persona of Snider being the great American hero were based on multiple real-world sources. Kung-fu and karate enjoyed a popularity boom in the '60s and '70s thanks to cinema. American fighters appeared almost overnight on television competing against Japanese champions. Imagine how absurd it looked to the rest of the world. Karate had evolved in Japan from Chinese immigrants that had introduced them to kung-fu. The Asian countries had centuries perfecting the "empty hand" techniques. It was a part of their culture. It was a part of their national identity. It was sacred and revered. All of a sudden a bunch of Americans showed up in colorful uniforms treating the martial art like a team sport.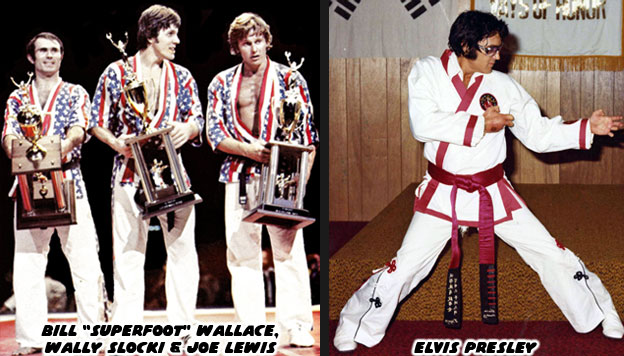 Karate tournaments popped up all over the country and trophies were handed out at a feverish pace. People wondered if it was easy to earn a black belt and pick up a bunch of medals in the process. After all, if the guys on TV could do it then anybody could, right? Even the famous singer Elvis Presley was smitten with the fighting arts. He studied under a number of different teachers, having various belts bestowed upon him. Traditionalists didn't appreciate karate being treated like an organized sport. It had cultural relevance, it was more like a lifestyle, with the discipline of a serious religion rolled into one. It was certainly not a points-based game that anyone could "play." Thanks to people like Wallace, Norris and Lewis, who were legit athletes, and the coverage provided by ABC's Wide World of Sports it gained momentum through the '70s and '80s. For better or worse they laid the foundation for mixed martial arts schools gaining a foothold in the states. The team at ARIKA didn't forget the culture shock of seeing how the US represented the martial arts in those early days. It made the costume choice placed on Snider that much sweeter.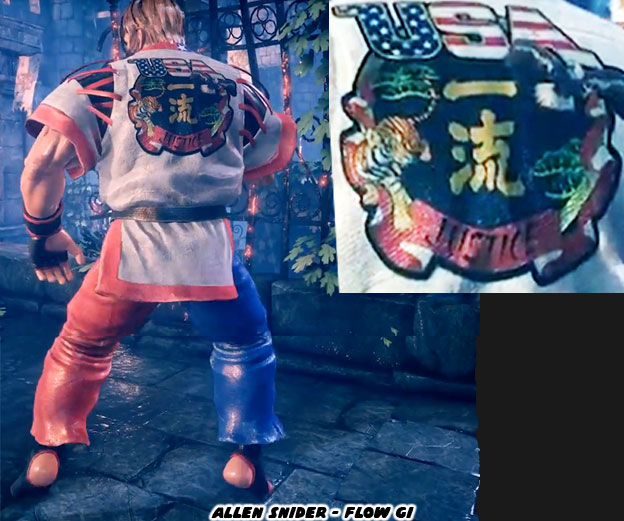 In the EX series Snider's first professional defeat was at the hands of Ken Masters. Akira Nishitani didn't want to disrespect the template he was working from after all. Snider decided to become the understudy of masters and unlock his true potential. This was before Sean was created as his pupil in Street Fighter III. When I looked at Rufus I didn't see half the forethought that went into making Snider. I didn't see the nods to history, to the legacy characters or the real world legends that inspired them. I could see it in Black Cobra for certain but not in Rufus. I wondered if Yoshinori Ono and his team could really be so blind to their design choices when other studios didn't seem to fall into the same traps. There were many days when I wished that Akira Nishitani and his team were still at Capcom, but sadly that ship sailed 21 years ago. Now that Snider was back I hoped that his library of moves had been expanded. Every character revealed so far seems to have matured, I expected no less for the champ. What do you think of the character? Do you think I was too hard on Rufus or Mr. Ono? I'd like to read about your favorite characters it in the comments section. As always if you enjoyed this blog and would like to sponsor me
please visit my Patreon page
and consider donating each month, even as little as $1 would help make better blogs and even podcasts!