I think we should have the conversation about Kimberly, about culture, and the developers at SNK, and Capcom. I had
previewed Kimberly when she was leaked
a month or so ago. Most of my observations turned out to be accurate. The internet has absolutely fallen in love with her, posting fan art, and cosplay pics
following the reveal trailer including the updated Juri
. The thing I think we have to acknowledge is that Kimberly has themes that were seen in SNK characters much earlier.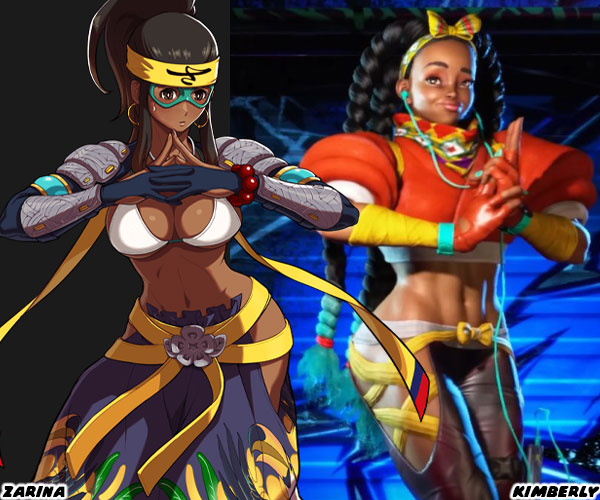 There were at least three SNK characters that Kimberly follows in the footsteps of. Zarina was a Brazilian conservationist, fan of Samba dancing, and kicker of crotches. She debuted in King of Fighters XIV, in 2016, along with Bandeiras Hattori founder of the Brazilian Ninja Arts Dojo. The minority characters were introduced as members of Team South America.
The King of Fighters series is wildly popular in Brazil, and other South American countries, and it made sense that SNK would design a team in order to appeal to them
. On a surface level Kimberly is young, and energetic, like Zarina, she even has a similar outfit. On a deeper level Kimberly is obsessed with the '80s, and ninjitsu. In her debut trailer we see her using a bunch of over-the-top ninja moves.
Bandeiras is also a huge fan of ninjutsu. He's even invented his own form, and is actively trying to recruit students. He's an absolute geek for Mai Shiranui, the most popular ninja in the KOF tournament. To be fair who wouldn't be a fan of Mai? Kimberly by the same token is also a ninja super fan, she's a follower of Guy, the most famous ninja in the Street Fighter universe. Kimberly has natural ability, making traditional fighting game style strikes with her own flair. Both Bandeiras, and Kimberly have lightning quick dashes to punches, and kicks. Ninjas in 3D fighting games often have a lethal move where they suplex their opponent onto their head from a tremendous height. Kage-Maru from Virtua Fighter helped start the tradition way back in 1993. Both Kimberly, and Bandeiras keep the tradition alive almost 30 years later.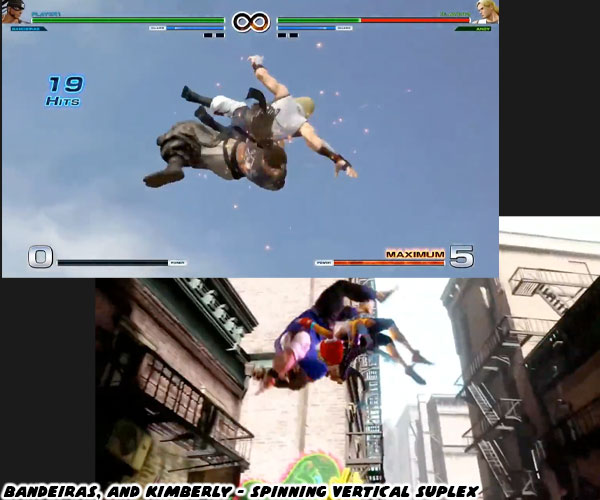 Dark-skinned ninjas, and ninja apprentices aside, there was another character that predated Kimberly. Isla aka the "Dreaming Brilliance" was a Chilean KOF contestant. She was set up as a parallel, and
rival to Shun'Ei
. She debuted in King of Fighters XV in 2022. Her trailer premiered on Sept 30 2021, almost one full year before Kimberly's first trailer. It is entirely possible that the new developers working on Street Fighter 6 were keeping tabs on every new face appearing in the KOF series. I would say that they challenged themselves to create characters better than the new faces introduced into the previous two KOF games.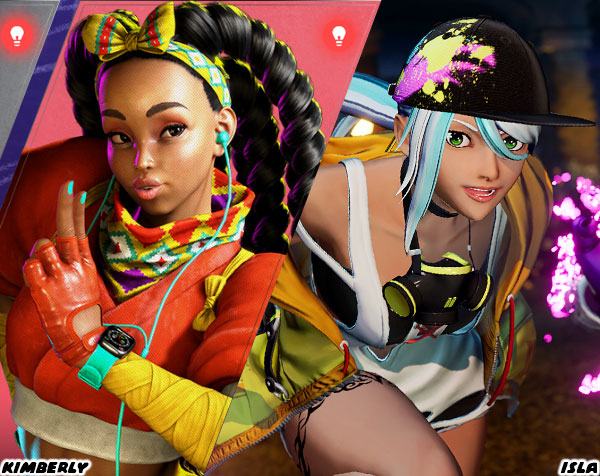 Isla was another South American. SNK was going all-in on making their cast appeal to the community. She was not a dark-skinned character, and her fighting style had nothing to do with ninjitsu or any other traditional art. She has mysterious psychic powers, floating hands nicknamed Amanda help her fight. These are similar to Shun'ei's psychic hands. Where Isla overlaps with Kimberly is in the use of spray cans. Isla is a graffiti artist, and social media star. She uses the spray can in several of her special, and super attacks. Spray cans, especially those favored by graffiti artists are highly pressurized, and dangerous in certain conditions. In addition to spraying colors capable of blinding an opponent, they are also flammable. In both Isla, and Kimberly's trailers audiences saw the cans used as explosives. Isla adding them to her kicks, and Kimberly to her punches. If I didn't know better I would say that the Street Fighter developers simply mixed elements from Bandeiras, and Isla in order to come up with Kimberly. This would be an oversimplification of how her character evolved.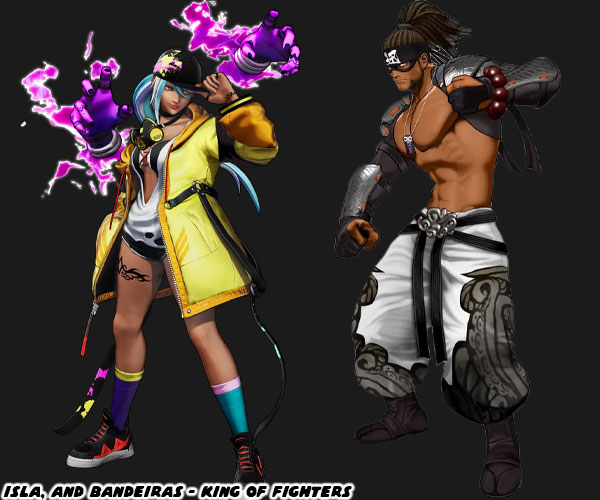 We need to take a step back from the minority ninja-meets-graffiti artist design behind Kimberly, and dig in deeper to how Hip Hop culture influenced the development of fighting games. When a game studio wants to ground a Western character as being "urban" or from the big city what visual cues do they give us? In the case of Guy, Kimberly, or the previous ninja female from the SF universe Maki, it was very subtle. They were wearing sneakers. Aside from that their outfits had elements of traditional ninja uniforms. Perhaps it was a mesh vest, pants, or a top pulled from classic designs. Then to ground it into the modern world they would be wearing modern sneakers. When the studios wanted to ground the universe, and presentation to Western audiences, or let international players know the world was set in a gritty western environment then what else did they do? Perhaps they showed landmarks in the distance. The Statue of Liberty, or high rise buildings that looked like the Empire State, or Chrysler Building from New York instantly told a story. Up close these streets, and environments were covered in graffiti. Graffiti decorated a number of stage backgrounds in many Japanese developed fighting, and brawling games.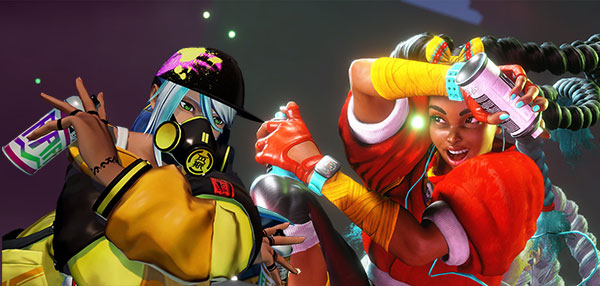 Graffiti is a way of storytelling, and is one of the few visual languages that is almost universally understood. It is one of the four pillars of Hip Hop culture. Graffiti is the visual art of the culture, b-boy (breakdancing) is the style of dance, emcee (rapping) is the style of singing, and dj (turntablism) is the style of music. Hip Hop was born in New York in the '70s, and became a globally recognized culture over the next 50 years. That means that a Hip Hop practitioner can come from anywhere. They can breakdance to music in a different language, and write graffiti using a non-English alphabet, and it is still recognized as part of the culture. Graffiti was used in stage backgrounds, and intro screens on video games, and is still used in game design. When graffiti is used with supporting details, such as additional tags, trash, and weathered textures then it helps ground the audience to a particular era, culture, or economic class.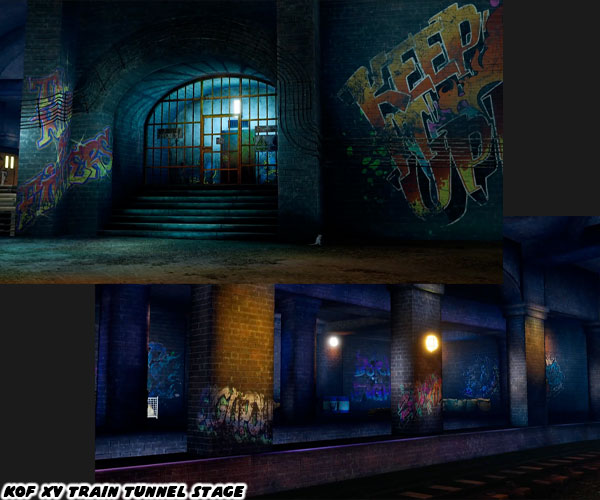 When graffiti is used without supporting context then it can be interpreted as a superficial element, as the developers do not fully grasp the culture they are trying to recreate. Poorly done graffiti doesn't really help sell the game, or even ground the player. I would argue the superficial use of graffiti applies to Isla, and the train tunnel stage in KOF XV. The tunnel is coded for subway cars, however it features a freight car, which rarely, if ever, use the electrified tracks of a subway system. Also the graffiti covering the walls, and pillars of the tunnel are very clean, and stylish. They are not surrounded by illegible gang tags, trash, or other elements that are often found in living, breathing cities. SNK is very good at introducing characters into the KOF universe based on Western pop culture. The trade off is that these characters sometimes appear to only have a surface appreciation of the culture, and not a deeper foundation. Duck King for example appeared in 1991. He was the first b-boy-turned-fighting game character. His appearance was memorable, but as far as pop culture went it demonstrated that Japanese developers were behind the curve.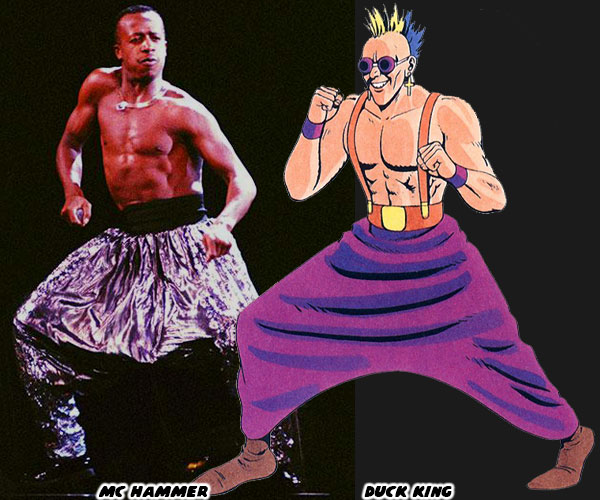 MC Hammer was a famous US rapper, and also an exceptional dancer. He popularized the oversized "genie pants" in the late '80s. However by the early '90s he was already waning in popularity in the west. Trends traveled much slower before the internet became commonplace. The Japanese developers at SNK thought they were beating the trend, and compared to other studios they very much were. However in a broader sense they were simply exploiting a trend, and not really invested in the culture. It was apparent as Duck King was a relatively minor character in the Fatal Fury timeline. It wasn't the first time that a Japanese studio appropriated Hip Hop culture in a game. Kaneko
released DJ Boy in the arcades in 1989
. The brawling game featured an early attempt at recreating the culture for international audiences. It didn't make much sense for people from the US, but I'm certain that audiences in Japan assumed that rollerskating gangs were everywhere in New York City.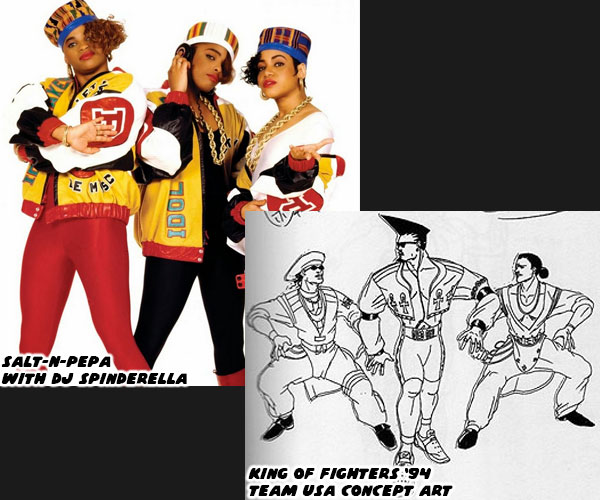 I had posted earlier on this blog that
the genius of SNK's character design was in hiding martial arts masters in plain sight
. When the characters were done right, like Terry Bogard, or Kyo Kusanagi, who wore stylish street clothes they were as memorable as the Capcom school of design which favored fighters in more traditional costumes. However not every character was as well regarded. When you look at the design notes from the art team you can see how much they were trying to pander to western audiences. The concept art for Team USA in the King of Fighters '94 looked like a Hip Hop dance troupe. The mix of spandex, and oversized coats was a popular trend in the late '80s, and early '90s. By the time the team would be introduced the fashion would be outdated in the USA. Thankfully the studio went with a football player, basketball player, and boxer all wearing street clothes. These designs wouldn't necessarily lock the team into a specific era. Capcom wasn't immune to the trends from the west either. The original Street Fighter starts with a brick wall covered in graffiti. The Capcom logo is stylized in the original title screen, as well as the SF6 reveal trailer some 35 years later.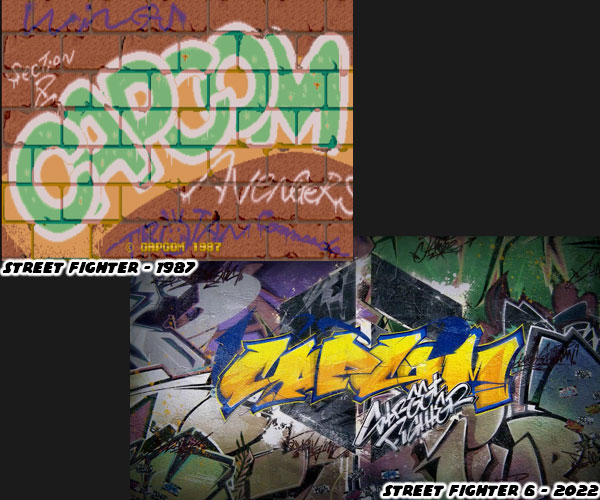 Western pop culture from the '80s was all over early video games
. Just on the influences of cult movies there would be no Metal Gear Solid without Escape from New York. There would be no Final Fight without Streets of Fire. The difference between how Capcom approached Kimberly, and how SNK created Isla demonstrate the different schools of design,
especially with regards to appreciating Hip Hop culture
. Kimberly is an energetic Black girl, as enthusiastic as Sakura was when she debuted in Street Fighter Zero. Both characters wore traditional costumes, Sakura dressed like a schoolgirl version of Ryu, and Kimberly dressed as a Black girl version of Guy. Both in sneakers, both essentially modernized takes on the iconic fighters. Kimberly is layered with additional details. Successful Black athletes have to blaze their own trails. In order to stand out from their peers. They have to be bold. Being Black, and successful in the USA means to live with more than a third of the country hating your existence for no reason other than the color of your skin. If you are going to be hated for everything you do then why not then flaunt your greatness? Audiences can see that Kimberly is a blindingly fast fighter, she is impatient as well. Doing running warmups before each battle. I do not think this was a throw-away detail.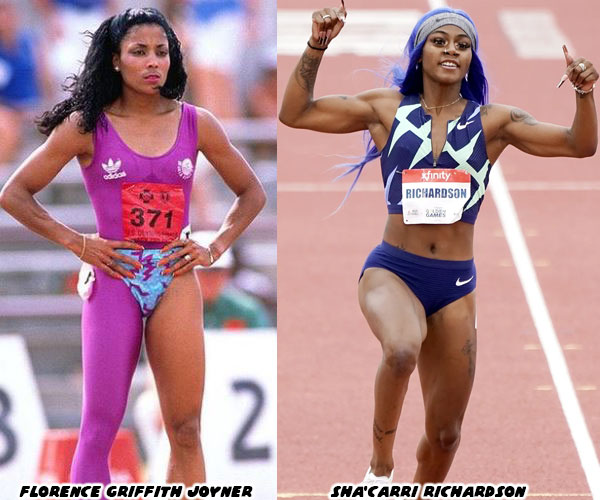 Kimberly is obsessed with the '80s. In that era there were many standout Black athletes. One of the most flamboyant was
Florence Griffith Joyner aka "Flo-Jo"
. The Olympian was a world class track star, that also happened to design her own stylish track suits. She became an icon on, and off the track. Most Black athletes were also subject to a lot of scrutiny. Flo-Jo was such a dominant figure on the track that she was accused of being on performance enhancing drugs. She was rigorously investigated, and subject to far more testing than her white contemporaries. She tested clean every single time, much to the chagrin of racist judges, and spectators. Sadly she passed away in 1998 from an epileptic seizure in her sleep. To this day we see shades of Flo-Jo with young Black track stars. The most recent of which would be
Sha'Carri Richardson
. The Olympic hopeful was sadly disqualified from the Tokyo Olympics for testing positive for marijuana use. To be fair she was self-medicating following the death of her mother. Of course other athletes, mostly white, did not receive such harsh criticism for recreational drug use. Kimberly has a gift for fighting, and at the same time she is also a young Black athlete. She reflects Hip Hop culture. She is a graffiti artist, she uses a classic cassette player to listen to music. Along with Jamie, the kung-fu b-boy, she is the second Hip Hop influenced character appearing in SF6.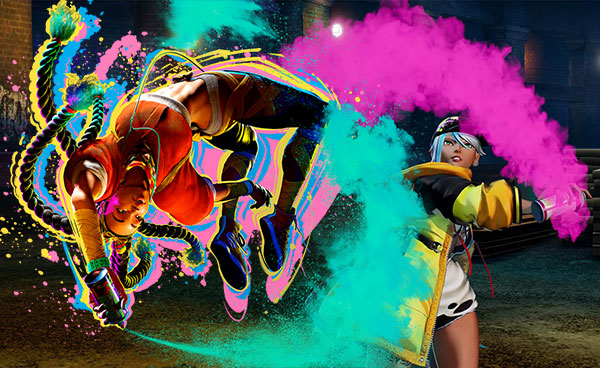 Isla by comparison appears to have cultural elements placed on her, and doesn't necessarily represent Hip Hop. Not unlike Duck King when he debuted. Isla is focused on being a social media influencer, but SNK didn't push anything about her art, or upbringing.
They instead kept her past ambiguous, focusing less on her art, and more on her strange powers, and rivalry with Shun'ei
. SNK could have at the very least associated her with
Valparaiso, the street art center of Chile
. Or made her an
activist painting political street art in South America
. I doubt that the current owners of SNK would be willing to put an anti-authoritarian in the game. I am glad that the studio is focusing on adding South American figures to the series, however any character could be placed in street fashion with splashes of paint, a respirator. It doesn't mean they are a graffiti artist, any more than they represent Hip Hop, or Black culture. If they paid attention to what Marvel, and Sony Animation did with the character of Miles Morales as Spider-Man then they would know how much bigger graffiti art could define a character.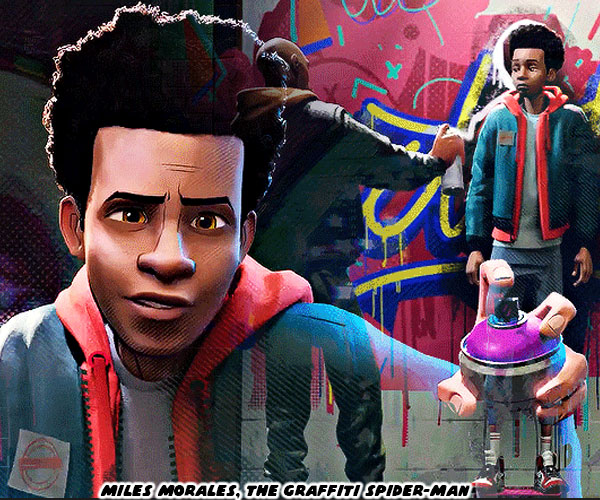 Street Fighter 6 Director Takayuki Nakayama, Producers Kazuhiro Tsuchiya, and Shuhei Matsumoto, and Designer Yusuke Hashimoto have all demonstrated a better understanding,
and love of the culture with the footage they've released so far, and in their interviews.
I doubt that the previous direction under Yoshinori Ono would have gotten it right. Perhaps that was
why King Cobra never appeared in the game
, despite the strong audience reaction. This is all of course my opinion. I'd like to hear your take on Kimberly, or the other fighters I've mentioned in the blog. Do you think Isla, Bandeiras, or Zarina were as well received by the fighting game community as Kimberly? Let me know in the comments section. As always if you would like to sponsor me
please visit my Patreon page
and consider donating each month, even as little as $1 would help make better blogs and even podcasts!