The newest Street Fighter V character has just been announced. A former Shadowlaw / Shadaloo super soldier that goes by the name of Falke. She debuts on April 24, 2018 as part of Season 3. In this blog we're going to break down the character, her powers, inspiration and the military motif being used in the genre.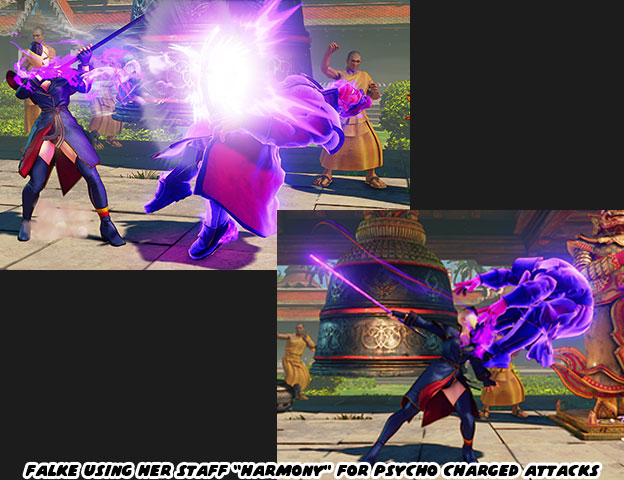 Falke has some very unique powers. As a former Shadowlaw soldier she was subject to experimentation and fight training. This gave her the ability to use "Psycho Power" the psychic energy that allows organization leader Vega / M. Bison / The Dictator to fly, teleport, and even shoot fireballs.
Ed was also experimented on and uses his psycho energy to generate awesome punches and even psychic
webs. Every major Shadowlaw character in the series uses psycho power a little bit differently. Falke actually channels her energy through a fighting staff which she nicknames Harmony. She can send projectiles of psycho energy through the air, as if they were bullets. She can also fill the staff with psycho energy and use it as a sword. This makes her game play style very unique in Street Fighter V. Her effective distance for strikes is increased over regular hand-to-hand fighters thanks to the staff and because of her psycho power she has the ability to shoot psychic projectiles at range.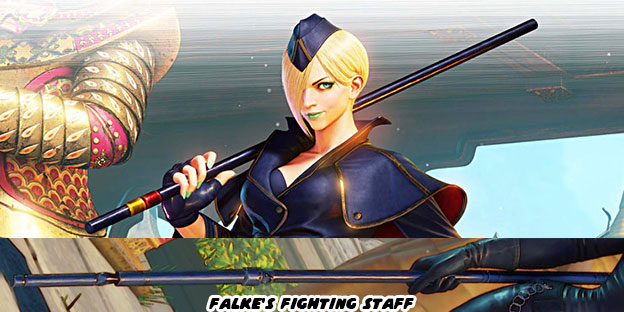 Falke's fighting staff seems to be made in sections and out of a unique composite material. It seems to be metal and not really flexible. If you look at it closely you can see where the staff is screwed together. Also when an alternate costume is selected the staff changes shape slightly as well. It looks collapsible now, almost like a walking stick. Also this variation of the staff has a muzzle diffuser, these are the small holes that would normally be seen on the tip of a rifle. Perhaps this acts as a blast diffuser, a feature on some firearms that helps focus the energy of a bullet forward instead of out to the sides. In the case of Harmony the diffuser could focus psycho energy in a specific direction. Little details like this help reinforce the overall military look that the designers at Capcom were going for.

Of course the first thing that many people commented on when Falke was announced was how because she fought with a staff she seemed to be the new Rolento. Well let's talk a little bit about this. Using a staff or any other weapon in Street Fighter is not a new idea. In the original Street Fighter (1987) the ninja Geki had a claw and threw shuriken aka ninja stars. In England the fighter named Eagle used two fighting sticks. The name Falke is actually German for Falcon. I doubt she is related to Eagle because his name was a golf pun. The other fighter from the UK was named Birdie. But I digress... Maki from Final Fight 2, Street Figher Zero 3 fought with a tonfa. Ibuki from Street Fighter 3 (1997) also threw shuriken. Rolento returned in Street Fighter Zero 2 (1996) but he originally debuted in Final Fight (1989) as a boss for Mad Gear. He appeared a few more time in the series, always fighting with his staff and throwing grenades at opponents. These moves were adapted into Street Fighter. The first female to actually use a staff in the series was Nanase in Street Fighter EX 2 (1999).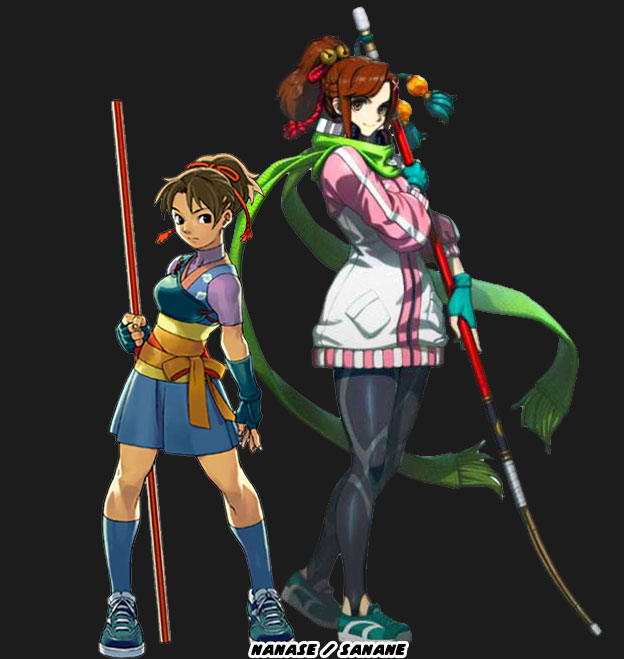 Nanase was the younger sister of Kairi and Hokuto, the two main characters in the story arc of the EX series. Nanase was being groomed to lead the Mizugami clan in the event that anything happened to her elder siblings. Of course in storytelling fashion they both disappeared and she was thrust into the spotlight. She had to track them down and prove her worth in the EX tournament. Because she was a kid it wouldn't have made sense for her to compete hand-to-hand against adults no matter how talented she was. This was why she was designed with a weapon in hand, a bo to be exact. It was a regular wooden bo, nothing special like Falke's staff. Nanase might have been half as big as Ryu but with the staff she had more range than he did and the ability to hit almost as hard. In the updated version of the EX story she is a little older, her memory of Hokuto is wiped but she remembers her fight training. Now going by the name Sanane, an anagram of Nanase. Falke did not move or fight like Nanase, or for that matter any other weapons-based character from the Street Fighter universe.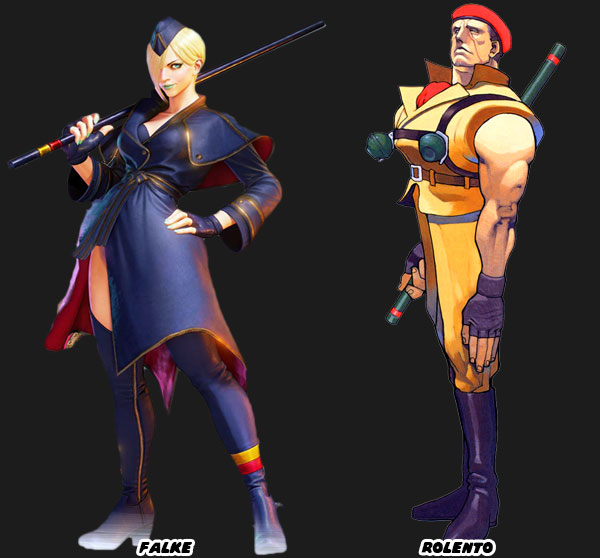 Falke focused her psycho energy through Harmony. She didn't really thrust with it like Nanase, or spin it quickly as with Rolento. It was an extension of herself rather than a weapon. The precision with which she used it was done in a very militaristic fashion. She squared Harmony with her shoulder as if it were a rifle when firing bolts of psycho energy. Without it I don't know how effective of a fighter she would be or if she could even control her psycho power. Ed on the other hand knew how to box, trained by former champ M. Bison / Boxer. He could also use his psycho energy in hand-to-hand combat. In canon fighters like Rolento and Nanase would not be at a loss without their staff. They still had training to fall back on. I wouldn't guess the same thing could be said of Falke. Like Rolento however her design worked in the series because it kept up the military aesthetic. Shadowlaw was made up of mostly soldiers. Looking at the cut of Ed and Falke's uniform you could tell they were not soldiers but officers. Shadowlaw, or Ex-Shadowlaw operatives wore armor and what appeared to be leather. They were fit for operations in the northern hemisphere, especially Eurasia. Rolento was not a member of Shadowlaw but instead a contractor. As a mercenary he did a lot of travelling. He wore khaki's and no armor, his uniform was suited for the tropic or desert climates. The color, cut and fabric of a costume did a lot of storytelling. It was something that every studio could take advantage of.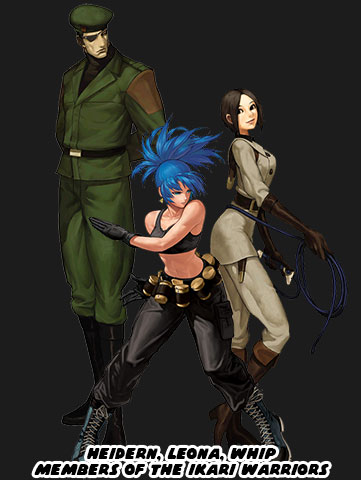 If you are working on a fighting game and want audiences to recognize a character as a serious fighter what do you do? Do you give them a facial scar and tattoos? Do you give them a flat nose and huge muscles? Or do you begin with the most obvious clue to audiences? The easiest thing you can do is put them in a costume. Look at some of the game characters through history and see which were the easiest to identify as a fighter. Those in military, or military-inspired costumes stood out. The best part for designers was that a military uniform could be given to a man or woman. Thanks to history we associated military training with martial ability. This was why characters like Heidern, Leona and Whip stood out in the King of Fighters series. We didn't need to know if they studied a particular form of fighting we just knew that they could fight. If they were members of a special forces team, which they were, then they weren't just good they were lethal. The Ikari Warriors were notorious in game canon as being the most skilled mercenaries operating abroad. They were able to topple regimes, steal secrets or just lay waste to an entire battalion. The two most famous Ikari Warriors, Ralf and Clark, made their debut in 1986. This was a year before the original Street Fighter was released.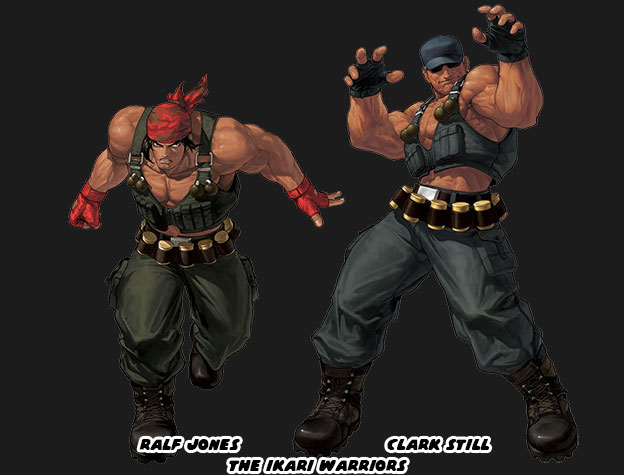 Some costumes, even military ones, can still be ambiguous. A person wearing a karate uniform might be a karateka, but they can also be a judo or jujitsu practitioner. That is why designers give them supporting details. Ken and Ryu for example had striking gloves so you could tell they were more likely karate fighters than judo grapplers. Ralf and Clark are obviously military fighters but what type? They don't wear stripes on their sleeves, or sleeves for that matter. We can tell that Rolento or Heidern are officers because of their full uniforms. Ralf and Clark are different, just look at their supporting details. They carry ammunition and explosives on their vest and belt. They look more like jungle mercenaries than servicemen. Based on their size we can tell that they are immensely strong. Since neither carries a weapon we can tell they are going to be strikers or grapplers in the King of Fighters.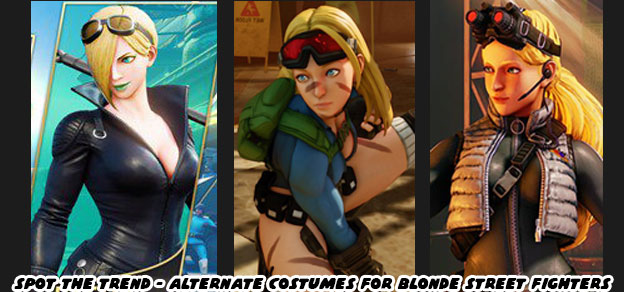 Something that was pointed out on Twitter this week was how somebody at Capcom has a certain fallback when designing alternate costumes. Specifically for blonde female characters. See if you can spot the costume detail they like to add. Aside from that
Falke is an interesting addition to the Street Fighter lineup. She seems to be on par with Ed as far as introducing new game play mechanics and shifting the focus to a new generation of characters. Capcom has done a decent job of focusing on new female characters through Street Fighter IV and V. The focus on the story is particularly unique. Ed is the founder of Neo Shadowlaw, a group assembled of former or discarded Shadowlaw experiments. With Falke revealed as a new recruit audiences are eager to find out who the other characters shown in the story mode are. Also if this organization had anything to do with the Illuminati featured in Street Fighter III.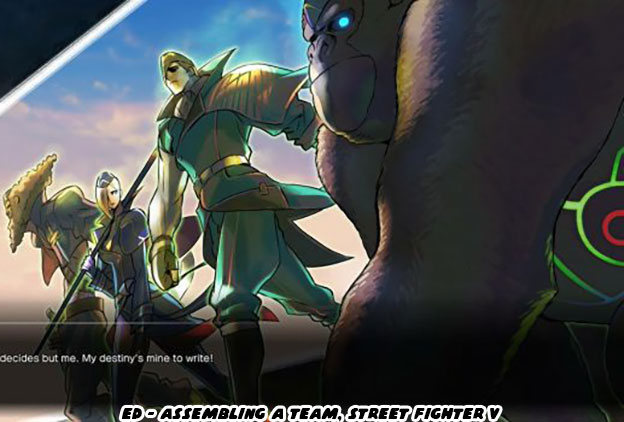 It seemed that Ed and Neo Shadowlaw would soon be confronting The Dictator and his Shadowlaw generals. This was a solid story push and something not entirely new to Street Fighter mythology. Many years ago in the manhua, or Chinese comics, of Street Fighter Zero there was a showdown between two factions fighting for control of Shadowlaw. We'll see how Falke and Ed figure into all of this. Of course the ramifications of any betrayals or sacrifices will ripple down to the rest of the universe.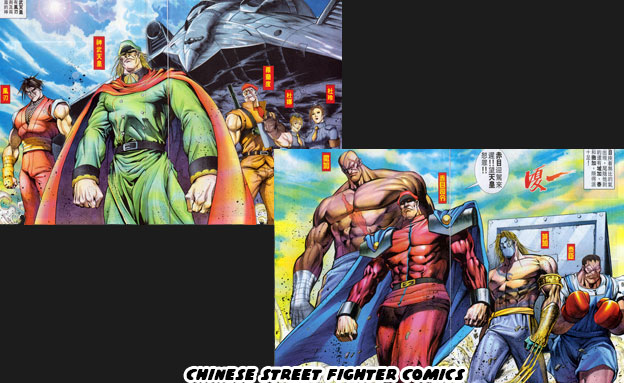 So what do you think about Falke? Do you like her design? What do you think about her powers? Will you be playing as the character when she is released? Are you siding with Shadowlaw or Neo Shadowlaw in this update? I'd like to hear your take in the comments section. As always if you enjoyed this blog and would like to sponsor me
please visit my Patreon page
and consider donating each month, even as little as $1 would help make better blogs and even podcasts!