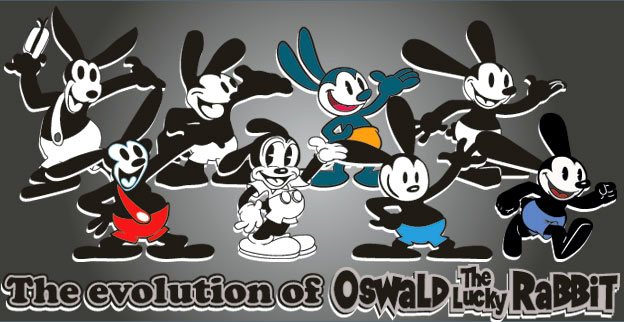 Oswald underwent a number of revisions since his introduction in 1927. He changed his look almost as often as he changed owners prior to World War II. The success of Woody Woodpecker and his friends meant that Walter Lantz could focus on running a mini animation empire. Toys, licenses and ancillary uses of his characters had to be carefully managed. The Lantz characters found popularity on the printed page just as they did on the silver screen. Oswald was one character that enjoyed a good run in comic books. He did not look or act anything at all like his old self while in the stories. Instead of enjoying a life of mischief and adventure he became a family friendly face. He was cast as the adopted father to young rabbits Floyd and Lloyd. His stories were very simplistic.
Any redeeming factors that Oswald may have had were lost in the formulaic plots of the comics. By contrast Mickey Mouse went on amazing journeys every week thanks to Floyd Gottfredson and his comic strip. In the comic book arena none could touch the stories by Carl Barks featuring Donald Duck and Scrooge McDuck. The Oswald comics were hopelessly bland by comparison to what Disney produced on a regular basis.
Post WWII there was little that kept Oswald in the minds and hearts of audiences. His last animated appearance was a cameo in the
Woody Woodpecker Polka
animated short. The 1951 cartoon featured a catchy song but not many fans realized that it was Oswald walking into the barn with a bunch of other Lantz mascots. The rabbit would not make another animated appearance for another 35+ years. The 1988 Ralph Bakshi animated film
Christmas in Tattertown
was a story set around a bunch of stuffed dolls and nursery rhyme characters come-to-life. About 3:05 minutes into the film there was a scene set inside a bar where a bunch of classic cartoon characters could be seen hanging out. You can hear Flip the Frog confess to Oswald "I could have been bigger than Mickey. I just didn't have the organization behind me."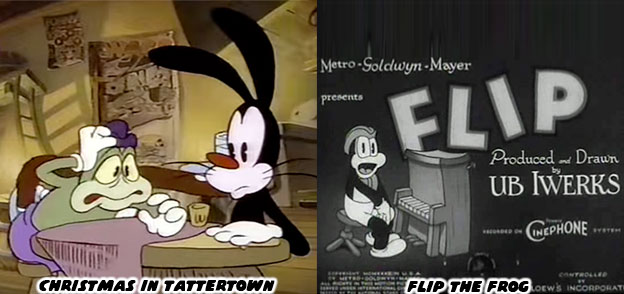 Only die-hard animation buffs would have recognized the two characters seated together. Ub Iwerks left the Disney studios on bad terms in 1930. He felt he wasn't being fairly compensated, or credited for all of his contributions to the studio. He left and started his own animation studio where he created a character called Flip the Frog for MGM. He worked for several other studios over the decade but returned to Disney in 1940. He patched things up with Walt but one the condition of his return he stopped animating and became a special effects producer. Pioneering a number of revolutionary film, animation and even effects that would be used in many of the Disney live action films, the 1964 Worlds Fair and Disneyland certified Ub as a genius. Sadly his animated stars never quite lived up to the same reputation. Animation pioneer Ralph Bakshi and his friends never forgot and made sure that Flip and Oswald were framed together even if just for a moment. Sadly very few people outside of animation would have caught the gag. Most did not give the rabbit a second thought after that.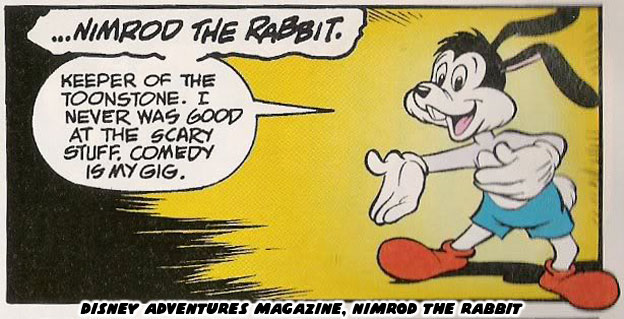 Disney Adventures Magazine did manage to feature one last nod to the character. In the late 1990's a cartoon police officer named Bonkers ran across an old carttoon legend known as Nimrod the Rabbit. Disney was still years away from getting back the rights to Oswald. This was just a way of having fun at the expense of the character. With the exception of reprints of the old Dell comics in Latin American countries and overseas through the '90s and '00s it was the last known original take on the character since the '60s. All of that changed in 2004 when Oswald the Lucky Rabbit suddenly turned up in Japan.
Universal Studios Japan was very similar to the other Universal parks in the USA. The studio had a library of film and animated characters used in rides, attractions and even restaurants. Although these characters were all based on older US icons the Japanese were nonetheless fascinated by them. The Japanese were great fans of western-style theme parks thanks to the success of Tokyo Disneyland. The Disney park had opened in 1983 and could be considered one of the most well run, well maintained and successful of all of the theme parks around the world. In 2001 Universal hoped to capture some of that market and opened its own park in Osaka Japan. The studio learned that they would have to incorporate some new Japanese licenses and make some changes to their merchandise in order to become more appealing to their audience. Unfortunately for them a few months after Universal Osaka debuted Disney opened up a second gate and called it Tokyo Disney Sea. Universal seemed outmaneuvered by the more popular Disney brand.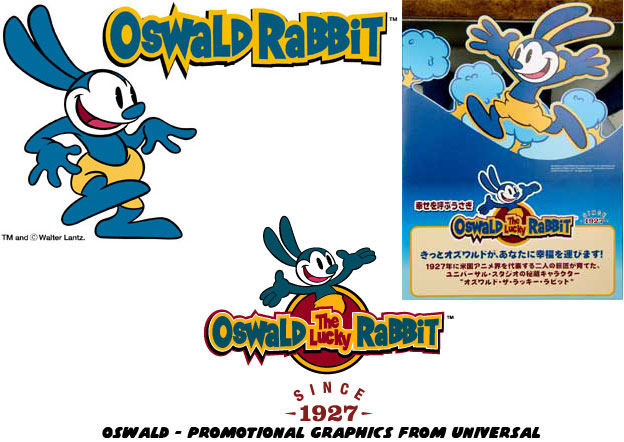 In 2004 Universal had found its ace. The company was already using the Walt Lantz characters in the park and stores. They discovered that they had the rights to Disney's first cartoon star as well. So they created a campaign to reintroduce him to park visitors and the rest of the nation. It was very important that wherever they could, especially on signage and item tags, they mentioned that Oswald was the first star created by Walt Disney. But in order to help sell the legend they had to give Oswald a makeover. They wanted to make sure that this character complimented Woody Woodpecker and friends but at the same time look a little older. They did away with the anthropomorphic rabbit. They replaced him with a much friendlier pie-eyed mascot. Oswald had a strong retro-look but was not tied into one specific period. They decided not to make the character black and white but instead an ocean blue with yellow shorts. This color combination ensured that the he would stand out from his contemporaries and certainly not be mistaken for Mickey!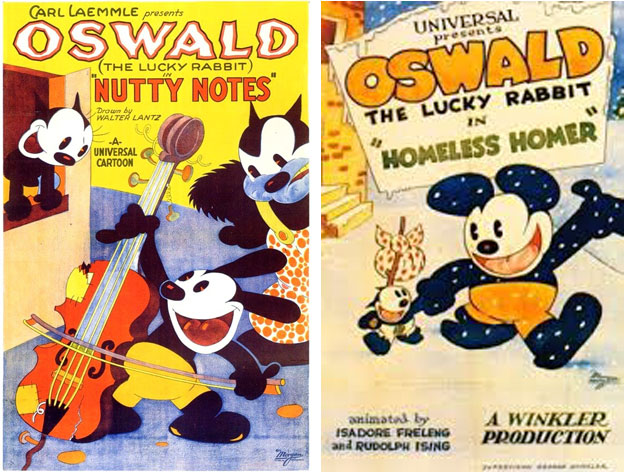 The origins for the Oswald redesign were rooted on two distinct things. The shape was based on the classic Ub Iwerks / Walter Lantz era of the character. The new look was slightly longer but overall timeless. The colors were based on at least two classic film posters, Nutty Notes and Homeless Homer, which each featured Oswald in yellow shorts.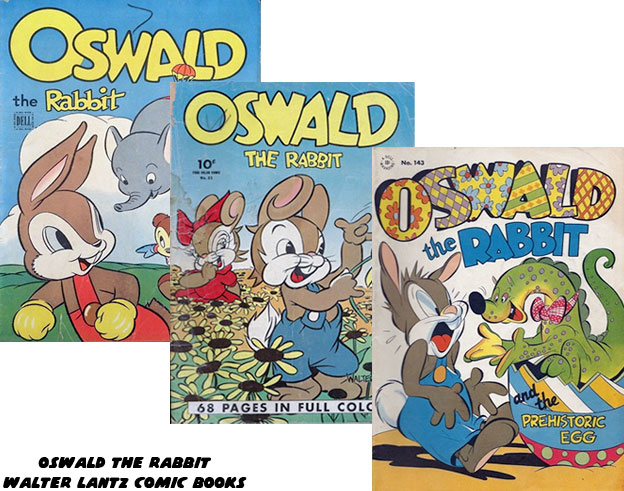 Universal made a concession to a widely used Lantz design and featured Oswald wearing suspenders, or rather the single strap over his shoulder. These were from his days of wearing overalls in the latter cartoons and comics. To be fair many of Ub's original designs and advertising art featured Oswald wearing a strap as well. This look became standardized by Universal as part of the modern Oswald model sheet. The change hit so fast and so authoritative that it was adopted overnight by the companies still reprinting the old Dell comics.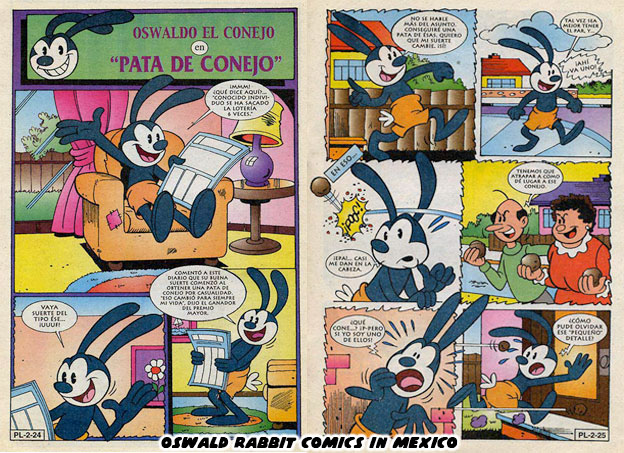 There were still writers and artists creating new Oswald comics in Latin American countries. They also adopted the redesign and made sure that audiences knew that this was a return to a classic. Oswald mania was just beginning to take hold in Japan. The next blog will look at the ways in which Universal pushed the rabbit to the masses.