You can read the history of
Carroll Shelby on Wikipedia
but it will never capture the full measure of the man. Chicken farmer, Air Force pilot, race car driver, team owner, designer, philanthropist. These were just some of the words that could describe his occupation at any point in time. Shelby was one of the rare Americans that went overseas to show and prove that he was a real driver. Driving for Aston Martin (yup, the James Bond cars), Mazerati and Donald Healey as in Austin-Healey in a series of events and winning the brutal 24 Hours at LeMans with British driver Roy Salvadori in 1959. That same year he had to retire from racing because of a long-running heart condition. Think about the millionaire race car drivers of the modern era and how well off they are now. Shelby would sometimes go from work on the farm to the racetrack, still in his overalls, and win. In endurance racing he would drive with a nitroglycerin pill slowly dissolving under his tongue. There was nothing soft about his approach to racing and he had the trophies to show for it.
Shelby made a name for himself as a team manager and designer however. He took some lightweight British AC Cobra bodies and somehow managed to fit in a Ford Racing V8. His power to weight ratio was absurd, more so than what DeLorean would attempt years later. His Cobras became the stuff of legends and a partnership between himself and Ford was struck. Shelby demanded nothing but the best from his vehicles as he did from his drivers. He knew the importance of having a winning reputation, especially when he began to post Ford cars against Ferrari, Aston Martin, Porsche and Maserati.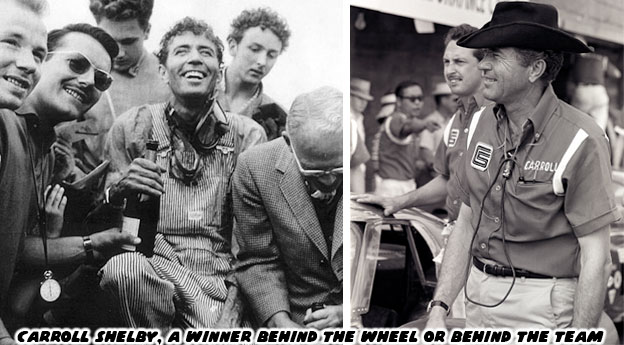 The reputation of the US auto industry was at stake more so than the Shelby name. When he felt his drivers were not playing their roles for the success of the team he was not afraid to voice his opinion. Or in some instances to chase
chase after them with a hammer
. Millions were being spent to develop US cars that could compete on the international stage. Shelby was a name that was recognized the world over and would become a focal point for the next half century. Perhaps the rest of the world did not find the appeal of the US sports cars. They were by and large still brutish and unrefined compared to the Italian and British automobiles. What couldn't be argued however were how they stacked up in races. Westerners suddenly found themselves not always lusting after Ferraris when they could have a sports car at a fraction of the price made in the US. The perception that Carroll Shelby gave American sports cars may have been his greatest contribution. Whether he was working for Ford, Dodge or Oldsmobile at the time he made sure that fans knew he was putting his name on a car that would live up to their expectations. Even the Mustang became more enviable when it was badged with a familiar Cobra logo. When he was not trying to get his own businesses off the ground he was sometimes hired as an adviser on supercar projects. Not all of his designs went into production but those that did became legendary.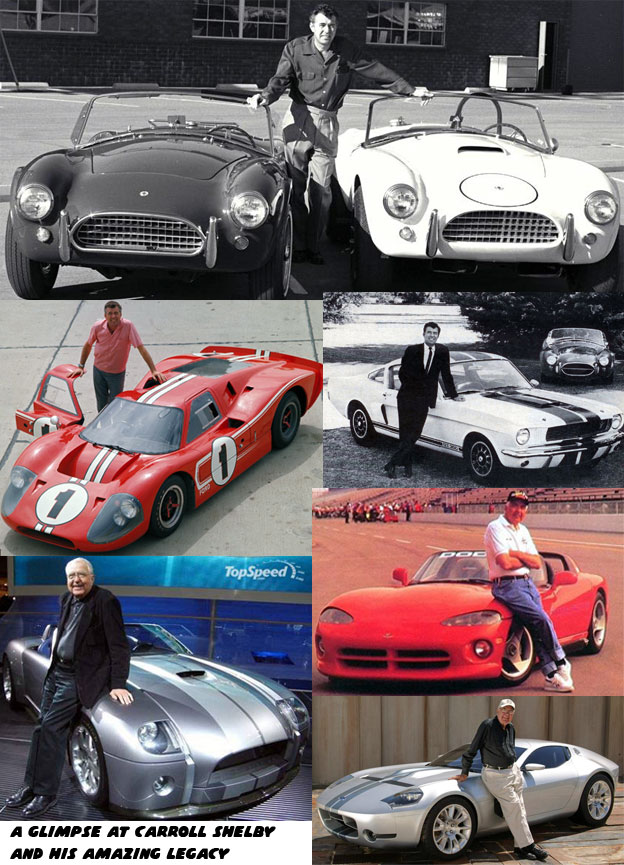 Shelby had a hand in the evolution of the Dodge Viper. It came along at a great time too. The US had lost a lot of traction to Japan through the '80s and early '90s in terms of auto sales and public perception. Ford and Chevrolet were having a difficult time having their Mustang and Corvette lines hold up against Ferrari and Lamborghini in competition. The US GT class needed a booster shot and Dodge provided just that. From concept car to actual production car the Viper became a sort of second coming of the classic AC Cobra. The car was heavier than the Cobra so the power output had to be much higher as well. Dodge engineered a V10 engine that could be tuned to well over 600 horsepower, enough to elevate it to supercar status. Over the mid to late '90s several teams used the Viper to score victories over in multiple high profile races including the 24 Hours at LeMans.
It might seem obvious that the auto industry in every nation would have to continuously pour money into R&D and then test that technology on the racetrack before showing it off at an auto show but that wasn't always the case. When times were good the auto industry would pay executives huge bonuses and take it easy on developing new lines. When times were bad, often because another country had surpassed them, then the companies would have to play catch-up and spend money on development and marketing of new vehicles. In the end of the 20th century the US seemed to react to the auto trends rather than predict where they should be going. This meant that electric and hybrid technology were an afterthought rather than a plan of attack for the Big Three. The Viper was a success because Shelby was lending his insight to the project, but for every one success story there were a dozen failures waiting in the wings. The next blog will highlight the rise and fall of the concept muscle car.