If you are following this blog then you are a fan of fighting games and hopefully a fan of lucha libre. Well Street Fighter V did get a couple of wrestlers to return which was good. The Mexico representatives were missing, so far, but there are more characters to be added in the next few months and years.Word is that SNK has a few wrestlers returning as well. A few weeks back there was a leaked image that shows allegedly the final roster of King of Fighter XIV. Which is supposed to be 50 characters in total. People are skeptical because the screenshot seems to be from a Windows laptop. So it just might be a doctored photo with fan-favorite characters. It the screenshot holds up however there may be a dedicated Mexico team. So what does that mean to fans of lucha libre in fighting games? Well it's a mixed bag. The three characters announced are all Mexico natives. Angel, Ramon and a new character called the King of Dinosaurs.

Angel was a genetically modified fighter that did have some pro wrestling moves as well as some muay thai strikes.She was insanely strong and was one of the fan favorite characters from previous games. Ramon had some high flying wrestling moves as well. His design, featuring blonde hair and an eyepatch, was actually inspired by real Mexican wrestlers such as Shocker and Pirata Morgan. The third member of the Mexico team was somebody new. He wore a mask, but not a traditional lucha libre mask. Instead it was a full-on t-rex mask and tail that covered his shoulders and waist. When he was revealed a lot of people noted that he looked eerily familiar. There was a character named Tizoc aka Griffon Mask in Garou Mark of the Wolves, another game from SNK that takes place in the King of Fighters continuity. This character was a huge wrestler that wore an oversized mask as well.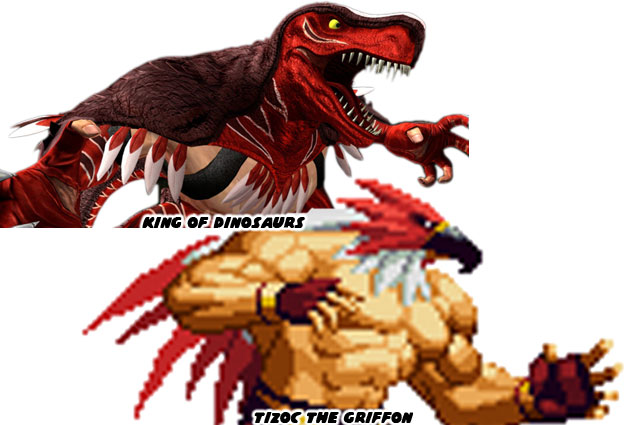 Many assumed that the King of Dinosaurs was the return of Tizoc. They could be right. In Mexico it is not uncommon to have a masked wrestler lose his mask in a match, disappear for a while and turn up in a new promotion with a new mask and a new gimmick. This new guy with the reptile head has the same build and size of Tizoc. He also has familiar grapples and special moves. His trademark "Big Fall Griffon," a spinning suplex drop, is actually seen in the reveal video for the King of Dinosaurs. I want to find out if he abandoned the original character, or if he lost the mask in a match or if this is some sort of twin brother.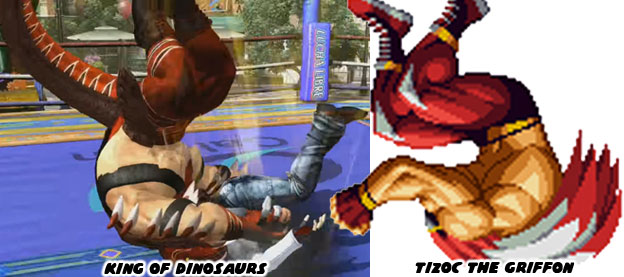 Do you think the design for Tizoc or King of Dinosaurs was better? Is this a character you'd think about playing as? What do you think of the KOF XIV reveal so far? Are there and characters you look forward to playing as or against? Are there any characters you wish were in the series? What about the direction of the franchise, do you think SNK is playing it safe by not evolving the characters much? I'd like to hear your thoughts on the game.